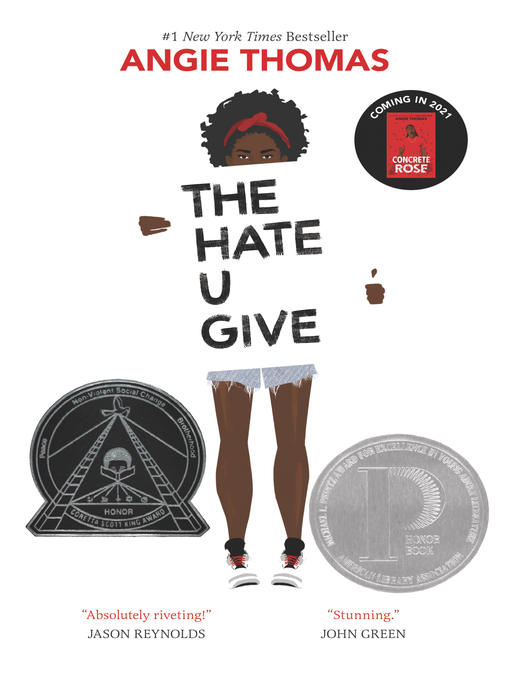 The Hate U Give
eBook - 2017

8 starred reviews ∙ Goodreads Choice Awards Best of the Best ∙ William C. Morris Award Winner ∙ National Book Award Longlist ∙ Printz Honor Book ∙ Coretta Scott King Honor Book ∙ #1 New York Times Bestseller! "Absolutely riveting!" —Jason Reynolds "Stunning." —John Green "This story is necessary. This story is important." —Kirkus (starred review) "Heartbreakingly topical." —Publishers Weekly (starred review) "A marvel of verisimilitude." —Booklist (starred review) "A powerful, in-your-face novel." —Horn Book (starred review) Sixteen-year-old Starr Carter moves between two worlds: the poor neighborhood where she lives and the fancy suburban prep school she attends. The uneasy balance between these worlds is shattered when Starr witnesses the fatal shooting of her childhood best friend Khalil at the hands of a police officer. Khalil was unarmed. Soon afterward, his death is a national headline. Some are calling him a thug, maybe even a drug dealer and a gangbanger. Protesters are taking to the streets in Khalil's name. Some cops and the local drug lord try to intimidate Starr and her family. What everyone wants to know is: what really went down that night? And the only person alive who can answer that is Starr. But what Starr does—or does not—say could upend her community. It could also endanger her life. And don't miss On the Come Up, Angie Thomas's powerful follow-up to The Hate U Give.
Searching for more content…
ISBN:
9780062498557
9780062498533

Characteristics:
1 online resource
Related Resources
---
Opinion
From Library Staff
List - PoMo Picks - Teens - Summer Reading List 2018 - Grades 10, 11 & 12
PoMoLibrary
May 29, 2018
List - PoMo Picks - Adults - Edgar Award Nominees 2018
PoMoLibrary
Jan 19, 2018
Nominated for Best Young Adult
Comment
lindsay_r
Jun 13, 2017
This is a very powerful novel about an extremely difficult and relevant topic. However, the book offers moments of levity and has a lot of heart and humour. Starr's relationship with her family is especially heartwarming. It's a great read overall that will make you laugh and cry.
---
From the critics
---
Community Activity
Summary
Add a Summary
Starr, the young lady, had a somewhat difficult life. In school she was one person but at home and in her neighborhood she was another. One weekend she went out with her friend. Then she saw an old friend,Khalil, and they just danced. Khalil and Starr then left the party and Khalil was driving Starr home. They got pulled over and the officer had Khalil come out the car while Starr had her hands on the dashboard because her father had taught her what to do in case of these things since she is black. Khalil was joking around and reached into the car and the officer got scared and shot him. That's where it started, Starr was very upset and scared. She was scared to talk about what happened since Khalil was in a gang and the gang would come after her even if the main one was her uncle. A lot happened after that but Starr got the courage and finally stood for what was right.
Starr Carter is a girl with a foot in two worlds. By day, she attends Williamson, a suburban prep school where she is one of only two black students in her year. In the evening, she goes home to Garden Heights, the city's poor, black neighbourhood, where she has lived all her life. She is one person at home and another person at school, because she can't be too "bougie" in the neighbourhood, or too "ghetto" at school. But the wall she has carefully built between her two selves begins to crumble when she is the only witness to a police officer shooting and killing her childhood friend, Khalil. The killing gains national headlines as protestors take to the streets to protest the murder of yet another unarmed black boy. In the day's following Khalil's death, Starr faces a choice between remaining silent, and speaking up. But even if she can find her voice, will it be enough to get justice for Khalil?
SPL_Brittany
Apr 09, 2017
"Sometimes you can do everything right and things will still go wrong. The key is to never stop doing right."

Sixteen year old Starr moves between two worlds: the poor neighbourhood where she lives and the affluent high school she attends. The uneasy balance is shattered when she becomes a witness to the fatal shooting of her childhood best friend Khalil, at the hands of a police officer. Khalil was black, unarmed, and doing nothing wrong.

Soon afterwards, the media gains interest, and Khalil's death becomes a national headline. Some are calling him a thug, a gangbanger even a drug dealer. While the police don't seem interested in finding out what really happened, rioting begins and protesters take to the streets in Khalil's name, as his death ignites long held tensions between the black community and their treatment by the police.

Throughout, Starr struggles with her identity as her two worlds collide. Her fear is palpable as she confronts system that she knows is working against her. She's afraid to speak out yet worries that if she does not Khalil's murderer could escape justice. Will she find her voice for Khalil?

Angie Thomas writes a beautiful, timely and emotionally charged novel about a teenage girl dealing with very real and complex relationships. Thomas confronts issues of race and class sending an incredibly powerful message to readers as well as those wanting to understand the blacklivesmatter movement. Her writing style and characters will engage you from page one, and will have readers falling in love with the entire Carter family. An engrossing and refreshing read, it is hard to believe that this is Thomas's first novel, already the rights have been given for this to be made into a feature film.
Explore Further
Recommendations
Subject Headings

Loading...