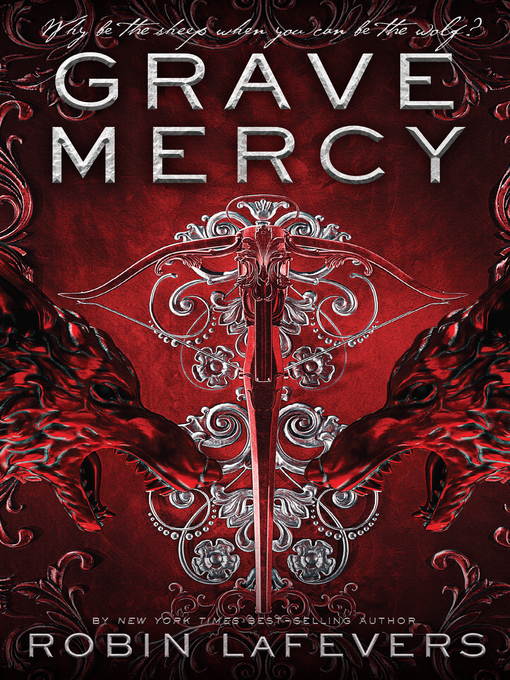 Grave Mercy
His Fair Assassin Series, Book 1
eBook - 2012

Seventeen-year-old Ismae escapes from the brutality of an arranged marriage into the sanctuary of the convent of St. Mortain, where the sisters still serve the gods of old. Here she learns that the god of Death Himself has blessed her with dangerous gifts and a violent destiny. If she chooses to stay at the convent, she will be trained as an assassin and serve as a handmaiden to Death. To claim her new life, she must destroy the lives of others. Ismae's most important assignment takes her straight into the high court of Brittany; where she finds herself woefully under prepared; not only for the deadly games of intrigue and treason, but for the impossible choices she must make. For how can she deliver Death's vengeance upon a target who, against her will, has stolen her heart?
Searching for more content…
Characteristics:
1 online resource data file, rda
Related Resources
---
Opinion
From Library Staff
List - PoMo Picks - Teens - Spaceopoly: Set in the Past
PoMoLibrary
Jun 23, 2020
a young adult historical read
List - PoMo Picks - 2016 Adult Summer Reading Club - Something Intense
PoMoLibrary
May 25, 2016
About the servants of the god of death.
---
From the critics
---
Community Activity
Quotes
Add a Quote
"When one consorts with assassins, one must expect to dance along the edge of a knife once or twice."
KaiaWillow
Aug 13, 2014
"Perhaps you mistake death for justice, and they are not the same thing at all"
"Why be the sheep when you can be the wolf?"
"When he laces his fingers through mine, my heart does its now familiar panicked flight, bumping painfully against my ribs. My shoulder twitches as if to pull my hand back, but my heart overrules it."
"I pause at the door, wishing I could find a corner and sleep until my head clears, but the sailor said the abbess is expecting me, and while I do not know much about abbesses, I suspect they are not fond of waiting."
"It is this kindness of his that unsettles me most. I can dodge a blow or block a knife. I am impervious to poison and know a dozen ways to escape a chokehold or garrote wire. But kindness? I do not know how to defend against that."
"The body on the ground is nothing more than a shell, a husk, and I am filled with a sense of peace. Yes, I think. Yes. This is what I want to be. An instrument of mercy, not vengeance."
"God's Teeth,' he says. 'I was only trying to wake you. You were crying out in your sleep.'
'I was not,' I say, then look from his neck to my knife.
'When I tried to wake you, you stabbed me.' He sounds sore put out. and I cannot blame him."
View All Quotes
Summary
Add a Summary
mvkramer Sep 27, 2013
Ismae Rienne is not a normal girl; she is the daughter of Death himself, marked -- and hated -- from birth. When her human father tries to sell her into a brutal arranged marriage, Ismae escapes to the convent of Saint Mortain, where other daughters of Death learn how to kill for their Duchess and their patron god. Ismae believes in the convent's purpose, and is excited by her first assignment -- following the serious Gaviel Duval to the court of Brittany to root out traitors and French agents. But what she learns at court, and what she begins to feel for Duval, might come between her and the convent that rescued her.
Notices
Add Notices
There are no notices for this title yet.
Explore Further
Recommendations
Subject Headings

Loading...